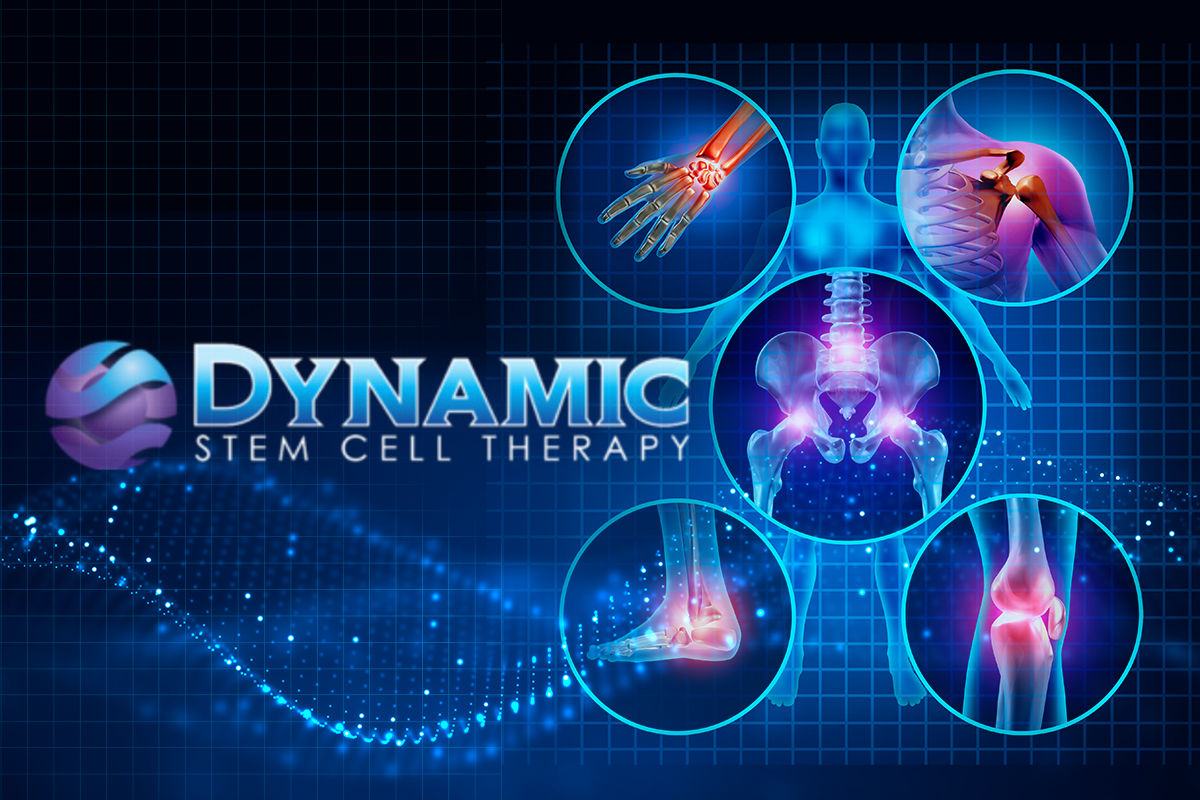 Dynamic Stem Cell Therapy offers regenerative medicine
A serious car accident left Mike Licata with a debilitating injury to his left shoulder.
"My injury was so severe, and the pain was unbelievably intense," Licata said. "It interfered with every part of my life."
Looking for alternatives to invasive surgery, Licata discovered Dynamic Stem Cell Therapy.
"Traditional surgery was going to be around $75,000, with three months in a cast, a year-plus of rehab, and probably $120,000 out of pocket," Licata said. "I was in trouble, then a friend told me about stem cell therapy."
Dynamic Stem Cell Therapy specializes in regenerative medicine, using stem cells to initiate healing within the body.
"Stem cells are the building blocks of the human body," Dynamic Co-founder and Chief Executive Officer Blake Youmans said. "They act as a booster of healthy cells for the body to heal itself. When we're giving this therapy, it's to potentially reverse the trauma that has been sustained. It's basically to help give patients a better quality of life."
Licata's treatment involved a quick injection of his own stem cells into the injury site, harvested from his fat tissue through syringe aspirated mini liposuction. The entire procedure took approximately four hours from Licata entering the clinic.
"They did their magic," Licata said. "This was so easy. It doesn't compare to invasive surgery."
Within months of the stem cell therapy, Licata's shoulder was completely healed, and his quality of life was restored.
"Now, it's better than my other shoulder," Licata said. "I can't tell you how much this has changed my life."
Licata is one of thousands of patients discovering regenerative medicine at Dynamic Stem Cell Therapy.
The revolutionary regenerative technique works for a variety of conditions and diseases.
"We focus mainly on athletic trauma," Youmans said. "And inflammatory diseases, such as arthritis and rheumatoid arthritis but it is a way to fix the entire body."
The minimally invasive procedure offers patients an alternative to surgery. Youmans noted his procedure is safe and effective with no reported side effects, and his patients notice a difference in as little as two weeks or up to only six months after injection.
"It's really up to a patient's own body to heal themselves," Youmans said. "It's a great alternative to try before surgery."
The staff at Dynamic obtain stems cells from two different sources: in the office from a patient's own fat cells through mini liposuction or from the donated umbilical cord of a newborn. Young mothers, between the ages of 18 and 35 are prescreened and provide authorization for the collection. A lab collects the umbilical cord after birth, and its stem cells are harvested and sold.
"After age 65, our stem cell count goes way down," Youmans said. "So, for older patients, I tell them it may be more effective to use zero-age stem cells for specific conditions."
Dynamic Stem Cell Therapy clinic has performed over 1,000 procedures over the last seven years. The success rate for patient outcomes averages from 75 to 100 percent.
"We've seen 98 percent success with knees," Youmans said. "I feel good about what we're doing helping patients get the results they want."
Regenerative medicine is successful in most patients, but the therapy has no guarantee of success. According to Youmans, all patients are thoroughly informed about that possibility before the therapy.
"I'll bend over backward to make sure a patient gets a great result," Youmans said. "But we can't guarantee anything or promise fast results."
The average cost of the treatment is $5,000 and is not covered by insurance. This price can still save patients thousands of dollars compared to surgery and follow-up rehabilitation.
Founded by Blake Youmans' late mother, Simong Youmans, M.D. (an experienced Board- Certified Emergency Medicine Physician), Dynamic Stem Cell Therapy opened its doors in 2014.
Dr. Simong Youmans' passion for helping people heal naturally, and, strengthening the body's own defenses, led her to open several "evidence-based" alternative medicine businesses over the years. They include Elite Medical Services & Spa. Laser Body Sculpting Institute, Attitude Med Spa, Advanced Health, and, of course, Dynamic Stem Cell Therapy.
"She thought there was a better way to help patients," Blake Youmans said. "So, she found natural solutions to help them heal themselves."
Blake Youmans began working alongside his mother in 2004 and witnessed the benefits experienced through regenerative medicine. Following her passing in 2016, he chose to continue what his mother started at Dynamic Stem Cell Therapy.
"I want to continue her legacy," he said. "My mom really believed stem cell therapy was the best way to help people. It's been incredible."
The 2,500-square-foot clinic at 2551 North Green Valley Parkway in Henderson has a staff of six. It has grown significantly over the years strictly using reputation marketing.
"Right now, I have almost 100 reviews on Google," Blake Youmans said. "Out of those 100 reviews, they're mostly five stars, so I take great pride in that because, at the end of the day, all I care about is good patient outcomes."
Dr. Dale Carrison, DO, FACEP, FACOEP is Dynamic's medical director. He served at several of the valley's prestigious medical organizations, and most recently as director and chairman of the Department of Emergency Medicine at University Medical Center (UMC).
"He has a great reputation in town," Blake Youmans said. "I feel very blessed to have him as my medical director."
Carrison came on staff after experiencing regenerative stem cell therapy himself. His procedure performed at Dynamic involved having his own stem cells injected into his ankles.
"He said it felt like he was walking on glass," Blake Youmans said about Carrison's injury. "He got the procedure done and four months later his ankles felt great.
"Now, he comes from a better place of empathy for patients," Blake Youmans continued. "When he's doing consults, he can say how it went for him."
Blake Youmans plans to expand into other markets once things start opening back up from the pandemic.
"My mother's vision was to help as many people as she could," he said. "I can only do so much in Las Vegas, so I would like to go into other markets to help more people."
Related articles:
Regenerative Cell Therapy – Meaning, Types, and Procedure
Regenerative Medicine for Knees
Regenerative Medicine for Elbows
Regenerative Medicine for Back Pain
Members of the editorial and news staff of the Las Vegas Review-Journal were not involved in the creation of this content.